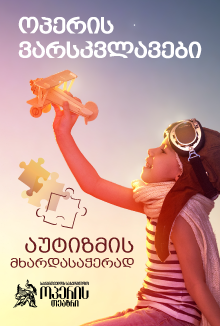 Charity concert devoted to the World Autism Awareness Day
Charity concert devoted to the World Autism Awareness Day
On 04 April 2016, in Paliashvili Opera and Ballet Theater of Tbilisi was organized the Charity Concert devoted to the World Autism Awareness Day (See Photos and Video).
The charity event were participated by famous Georgian opera artists Zurab Sotkilava, Makvala Kasrashvili, Tamar Iveri, Nino Surguladze, Nino Machaidze, Ketevan Kemoklidze, George Gagnidze, Shalva Mukeria, piano-player David Aladashvili.
Opera House orchestra – director David Mukeria, children's choir  "Ana-Bana" under the guidance of Zviad Bolkvadze, were also involved in the concert.
The musical arrangement and Scenic Design were done by the producer Marina Beridze and Georgi Alexi-Meskhishvili, respectively. Director was Zaal Chikobava.
Concurrently of the concert in the Blue Hall of the Opera House was held the exhibition of paintings of Rusudan Petviashvili (See Photos).
The event has attracted great interest of society and has raised interest on the Autism Awareness problems.
The concert was organized by Autism Research and Support Foundation, which planes to continue the tradition of the charity concerts series in the future.
Accumulated funds will be used for the construction of a Center for Adolescents and Adults with Autism Disorder in Tbilisi.